Never did she think that a job as Clinic Administrator would lead to a career that would change so many lives, but in 2007, Angelie Chotalal embarked on a path that would also change her life for good.
Working at the Family Planning Association of Trinidad and Tobago (FPATT) in her late thirties, Angelie found joy in handling the administrative needs of the clinic, ensuring that the doctors and staff had all the resources to function at full capacity. She held that position for 3 years until she transferred into the vocation of Sessional Nurse, caring for the clients and clinic in a more hands-on role.  For the next 8 years, Angelie would devote her energy into education, becoming a Health and Family Life Education Master Trainer, as well as a Master Trainer in HIV Testing.  It was during this time that she also improved her bilingual skills; a decision that would prepare her for great success in the coming years. 
"Hola! Como estás? Te ves bien," she says as she greets a Venezuelan woman in the waiting area of the clinic. Her compassion is soothing and her smile is contagious. In her current role as Clinic Co-ordinator, Angelie has found herself having to be creative, innovative and still down-to-earth in the planning and execution of programmes for FPATT's 4 static clinics across the country. The young migrant mothers of the clinic have come to know her as a matriarch, as she frequents the clinic floor always ready to attend to a new concern.
"What makes them less than human?"
Fleeing political oppression, lack of food and medicine and the downfall of the Venezuelan economy, over 40,000 Venezuelans have migrated to Trinidad to seek safer livelihoods. Many of them work to send most of their income home for the families they had to leave behind. "This here is my heartbeat. The work we do with the migrant community is dear to me because when I hear their stories, I know that there is so much more to be done. They are part of a population that has not received equal treatment. They've been put into a situation that they couldn't expect and their only hope was to flee to this country where basic human rights are being withheld from them. What makes them less than human?" she asks, her visage pained with concern.
Despite the influx of Venezuelans, Trinidad and Tobago's migration policy has offered refugees very little access to healthcare and social services. However, FPATT's mandate is to ensure that every person living within the borders of Trinidad and Tobago receive equal access to Sexual and Reproductive Healthcare (SRH) and Angelie's personal mission is to ensure that they receive the best treatment when they come to her clinic. 
"In 2018, we started offering healthcare specifically for the migrants. We had to ensure that our staff were compatible with our vision, and it was more than being bilingual; we each had to be genuinely empathetic toward the community we were seeking to serve. We worked to remove bias, xenophobia and other ill perceptions from even our own lives," she noted. "The community is so close knit, that word of our services spread quickly and very soon our clinic for migrants was up and running. They would come in and see that it was a safe space to share their experiences and we took the time to listen, because they wouldn't get this safety anywhere else." 
Before the FPATT clinic, migrants who needed SRH healthcare have had to book appointments with private doctors who often charge more than the migrants can afford. 
"They work 12 hours a day, 7 days a week, get enough income to take care of their families here and those they've left behind. We've visited homes that house up to 10 migrant families, but it's merely a shack with no running water or space to sleep. And then COVID hit," she pauses pensively. "Incomes disappeared and so did options for housing; many of them were left homeless, so women who were already vulnerable were now being exploited. Imagine, your landlord asks you to pay for your rent with sex and a month later, brings his friends to cash in on the same favour, all because he knows you have nowhere else to live."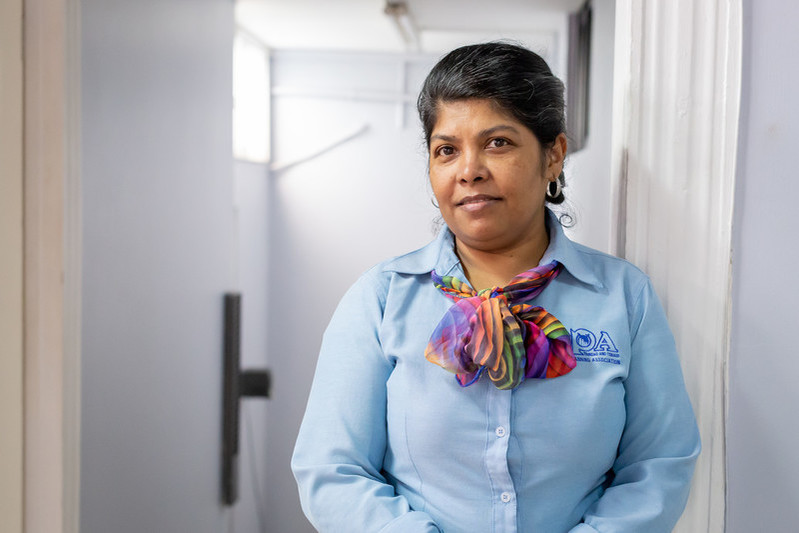 Taking SRH Services online
FPATT has offered all their regular healthcare services including gender-based violence counselling, birth control and emergency contraception to the migrant community. When Trinidad and Tobago entered a lockdown due to COVID protocols in 2020, FPATT approached the United Nations Population Fund for sponsorship to launch TeleHealth, an online medical consultation programme specifically for the migrant community. Through TeleHealth, clients are able to book 30-minute consultations with a clinical doctor and have their concerns addressed, ailments diagnosed and medicine prescribed, over WhatsApp video call.  
In January 2021, FPATT also hosted a webinar series patterned after IPPF's One Curriculum but tailored to the needs of the migrant community. The series featured FPATT's team of clinical staff as well as experts in the fields of nutrition, self-defence and gender-based violence. "The response to both programmes is tremendous. The online access works well for our clients and we have developed such close relationships with them that we would love to expand our healthcare, but funding is often our major issue. We need sponsors to come on board, see how the programmes impact the people and help us continue to serve," she states. 
Ms. Chotalal looks forward to working with the Family Planning Association and helping communities that need their services the most.
country
Trinidad and Tobago
region
Americas & the Caribbean
Subject
Gynaecological, HIV and STIs, Contraception
Related Member Association
Family Planning Association of Trinidad and Tobago