In a country as diverse as Trinidad and Tobago, with 1.4 million varying hues and heritages, there still exists an arduous uphill climb for certain key populations. Conquering this apex of equality seems to be evasive as Government policy, general public perception and lack of education remain strong winds of opposition. 
For persons like Brandy Rodriguez, Healthcare Navigator at the Family Planning Association of Trinidad and Tobago (FPATT), the struggle is both real and personal. In 1999, Brandy began her transition to womanhood and since 2006 has been working with FPATT in their HIV programme for the LGBTQI Community.  
"Back in 2004, very little was said about HIV infection, transmission and prevention. In fact, if there was any information, it was misconstrued and meant to stigmatize the LGBTQI community. I was fairly new to the transgender community, so I made it a mission to research and find out the truths behind HIV and how I could protect myself. I then felt like I had to share what I found with others who were searching as well," she said.
That's when FPATT asked Brandy to join their team in educating the LGBTQI community on the scope of healthcare that was available to them and guiding them to these resources within the public healthcare system. Since there was so much stigma surrounding the community, many of its members often stayed hidden under the shroud of comments that the gays and lesbians were the cause for the rise of HIV within Trinidad and Tobago. Even if a member of the LGBTQI community wanted to test for their HIV status, they would never dare to go into a public Health Centre, simply because of the fear of being judged by the healthcare professionals. 
"It's a simple case of this. When a transgender or non-binary person walks into a Health Centre or hospital, and the triage nurse has to fill in a form that asks for gender, the only two options there are Male and Female. So usually, the non-binary person knows that if they want to access that healthcare, free of judgement, they would have to dress as the gender that would bring the less undue attention. At the end of the day, the healthcare provider does not receive accurate information about the client, and the client doesn't receive the scope of assessment and treatment that may be necessary. So part of what I do, is to simply accompany the client to the appointment so that it's a less stressful experience and they don't feel like they are alone," says Brandy.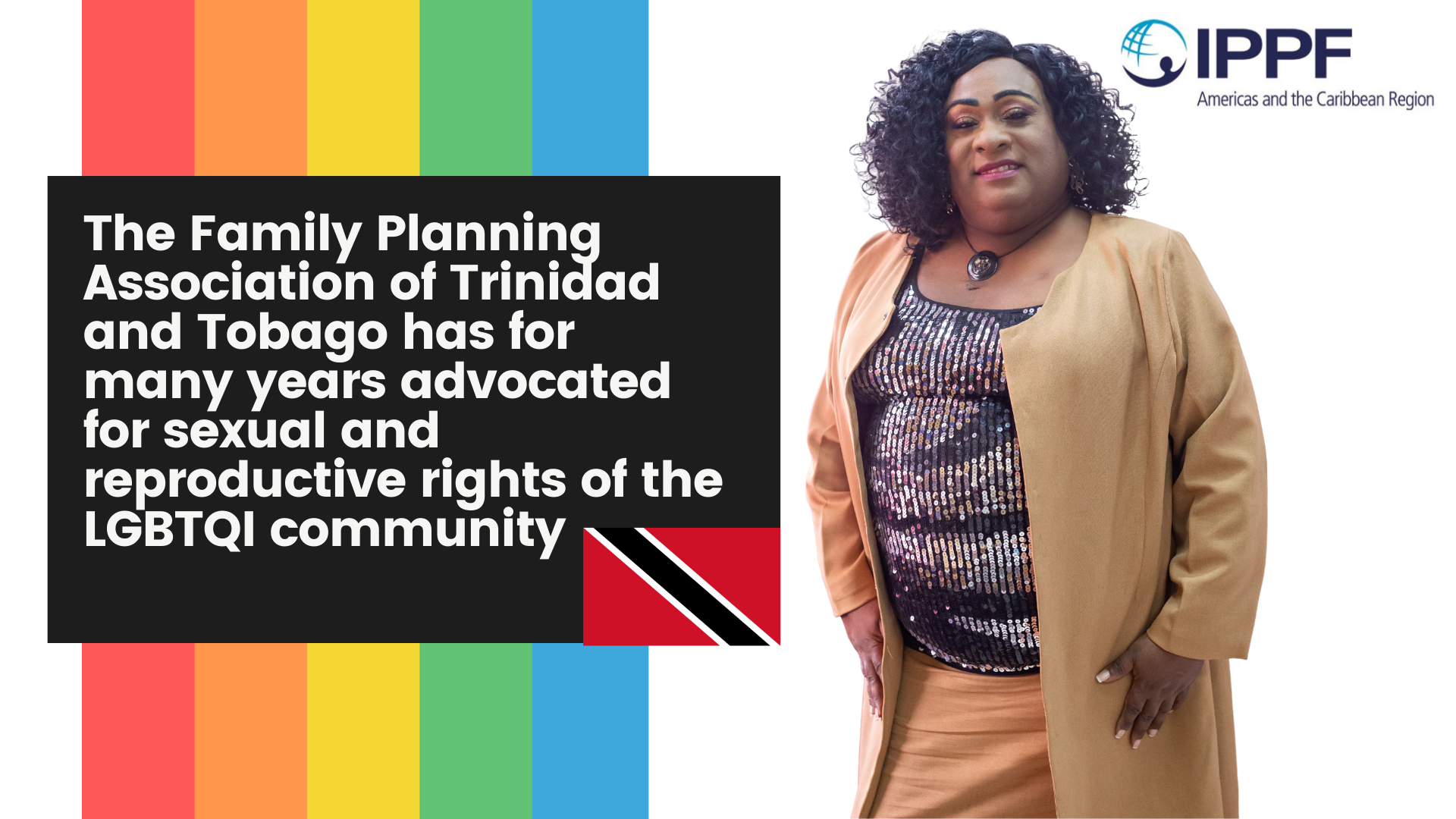 Advocating for greater support
Apart from a great lack of healthcare professionals that are willing to treat with the LGBTQI community non-judgementally, the community also lacks social support. Most of the members of the community face barriers in housing and employment, which means that they are easily swayed into earning their livelihood as sex workers. Over 95% of skilled and employable persons within the LGBTQI community have turned to sex work because they are constantly denied employment within other industries. 
"When I began my transition, I was fortunate to have the support of my family; they understood my heart and my need to be my authentic self. Not everyone has that support and so some either migrate or are left homeless because of the fact. Having to work within the sex industry means that they are now at greater risk for HIV or other STIs. My job as an Educator and Navigator is to promote condom use and ensure that they make use of FPATT's regular HIV testing. If they do test positive, we then have that conversation about U=U, which means that if they (their HIV viral load) are undetectable, they will be untransferable, and then get them to that place of undetectability," she states. 
Brandy explains that being undetectable means that the client's viral load is suppressed and they are living healthy lives. Since HIV infection has long been touted as a death sentence, the Educators work hard to ensure that 90% of persons who identify to be HIV Positive enrol in the FPATT Programme and 90% of those persons living with HIV (PLHIV) understand the importance of being adherent, through consistent treatment, healthy eating and rest. The Programme also offers sexual and reproductive health education on prevention against HIV re-infection and other STIs in the belief that SRHR interventions are preventative, cost effective, and would save lives and resources that would otherwise be spent on higher-level care. In addition, clients are navigated to medical practitioners and counsellors who can address issues of gender-based violence and mental health. 
The Family Planning Association of Trinidad and Tobago has for many years advocated for sexual and reproductive rights of the LGBTQI community, ensuring that it remains a safe place for HIV testing and counselling. It holds a vision of a world where gender or sexuality are no longer a source of inequality or stigma, which is why every year, FPATT offers a total of 920 tests, 48 group sessions and additional one-on-one sessions accessible by all persons living within Trinidad and Tobago. 
Following an assessment by PAHO, FPATT is poised to become a full service HIV treatment site, offering antiretroviral treatment (ART) as well as psychosocial services for persons affected by HIV. The Association's goal is to stop discrimination and stigma against PLHIV and ultimately end the spread of HIV within Trinidad and Tobago by 2030. 
country
Trinidad and Tobago
region
Americas & the Caribbean
Related Member Association
Family Planning Association of Trinidad and Tobago