Famia Planea Aruba (FPA) places great value on the relationship they have with Adriana, the social worker at EPB San Nicolas School. Adriana is the person who has the most contact with the students, and the one most students turn to when they need help. 
"I've been the Social Worker at EPB San Nicolas for about fourteen years and have been working with FPA throughout my entire career here. It has always been a pleasure to work with them, they are very accommodating to whatever project we have going on. Each year we have an educational carousel for the first-year students, and we have always been able to count on FPA to provide information to our students. The Comprehensive Sexuality Education program is always fun, informative, and evolving. I, as well as other colleagues, try to catch at least one CSE session each year to see what innovative way the information is presented."
EPB is a secondary vocational school that educates young people from 12 to 18 years. Over the years it has developed a reputation for having challenging students. Adriana knows the students better than most of the teaching staff and is a firm advocate for the continuation of the on-the-spot-consultations, having seen the consequences when this type of care is not offered. 
For registered youth under 21 years, the costs of healthcare provision are covered by the national health insurance, however, some students fall outside of the system. "Most of the times you get to have fun with the students, however, every now and then you will come across a heartbreaking case. Since Aruba has so many different migrants, very often you will come across one person who is not insured at the moment, who needs products and can't afford it and you figure out a way to help", Adriana says.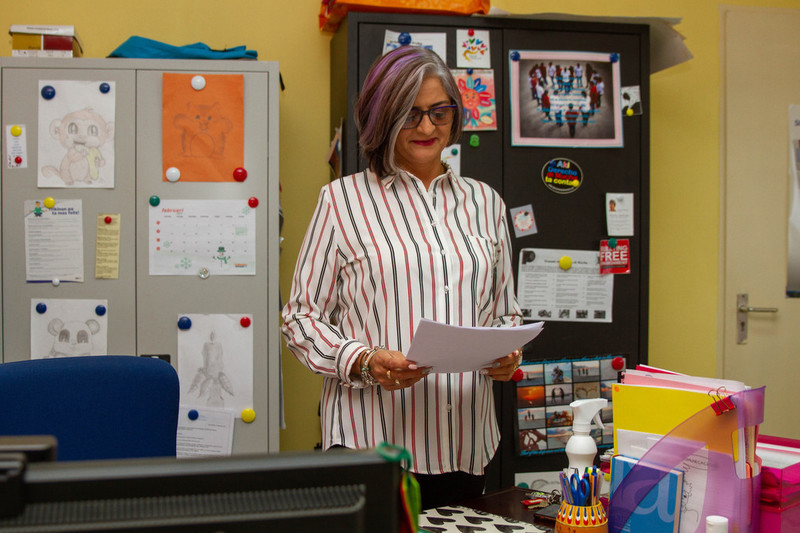 "For our second, third- and fourth-year students FPA has been collaborating with us to provide a monthly session where the students receive contraceptives and guidance on school grounds. Since around this age, most of our students are already sexually active, we try to help them stay safe in and out of school. The consultations hours have become so popular over the years that as soon as the students see an FPA team member, they immediately assume that they are here to provide them with contraceptives and guidance, even if they are here for some completely different reason that day", she comments.
"The love, patience, and dedication that FPA has shown our students over the years are outstanding. At the beginning of the COVID-19 crisis we had to stop the consultation hours, but thankfully we are now back at it, bigger and better. Due to the collaboration with FPA, we were able to finish out our 2018-2019 school year with no new pregnancies, which was a first for our school. We hope to accomplish this again, now that we can continue our consultations, and keep our kids educated and in school, for as long as we can so they can achieve the best possible future", Adriana concludes.
region
Americas & the Caribbean
Subject
Gynaecological, Contraception
Related Member Association
Foundation for the Promotion of Responsible Parenthood - Aruba