At her desk in the small, quiet office, sits an extraordinary Cuban physician and educator, whose accolades are second to none. Today, she is neither writing nor teaching on the advances in medical science, but rather, she is focused on her mobile phone. Engaged in a video call, she listens attentively to the person with whom she speaks. She shuffles in her chair, only for a brief moment, as if to make herself more comfortable and even more attentive. To Dr. Camejo, this is not just a job, this is her way of being present for a community that is in dire need of her help.  
Four days a week, Dr. Mabel Camejo conducts TeleHealth, a telemedicine service initiated by the Family Planning Association of Trinidad and Tobago (FPATT) specifically for the Venezuelan and Cuban migrant communities. Her clients consider this service a god-send, as it allows them to book 30-minute consultations over WhatsApp video call. During the call, Dr. Camejo assesses and diagnoses her clients' illnesses and prescribes medication if needed. If the client needs to be examined, she refers them to the FPATT clinic for hands- on assessment.   
"My patients love it here. Many of them just don't have the money or time to come in to the clinic for an appointment. If they have to take time off from work and that means no income for the day, but it's easy when they can pick up the phone and send a message or take a call to get the same advice or treatment," she notes.  
Dr. Camejo recalls how technology has advanced since her practice in Cuba over 10 years ago. "In Cuba, the doctors go to the patient's home so that we can chat with the whole family about how they can help the patient recover – whether it means reducing stress in the home, or cooking with less salt or sugar. There, we have to be the doctor for the entire family. Here, now in Trinidad, we get to do the same with TeleHealth. On the consultation call, we can address the whole family so that everyone understands the recovery path forward," she said.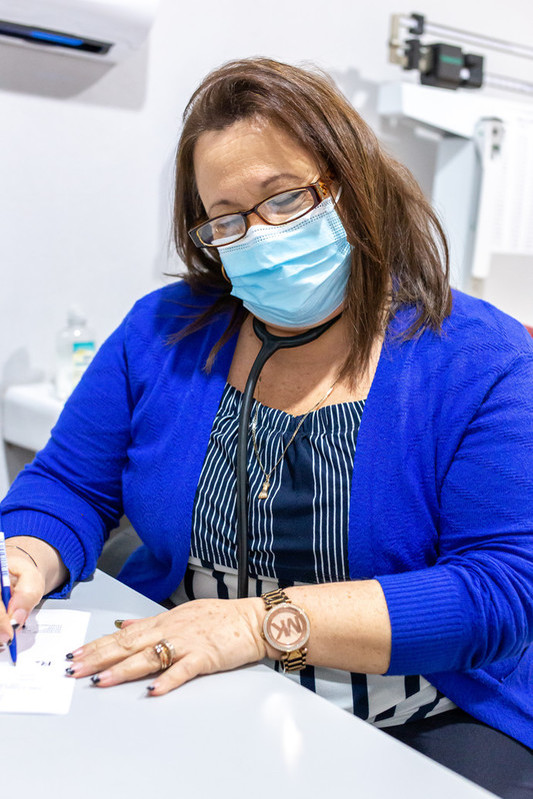 "When people need help, you just have to help"
With over 30 years of practicing medicine, Dr. Camejo specializes in gynecology, pediatrics and post-natal care but says that most of her migrant clients come in with a much wider range of ailments. 
"Breast cancer is one I see very often. Then there is polycystic ovaries, diabetes, vaginal infections and even osteoarthritis. These women have been managing chronic illnesses that need constant and consistent treatment but because they cannot get medicine in Venezuela, they have to leave what they know as home to come here to Trinidad. It's their only chance to survive," she lamented.  
Current policies in Trinidad and Tobago have prevented the migrants from accessing the public health care system unless they need pre-natal or emergency healthcare, so many of them with existing chronic illnesses have no other choice but to seek private care, which can be almost half of their weekly salary. However, FPATT's mandate is to fight for equal Sexual and Reproductive Health Rights for all persons living within the nation's borders and that includes the communities that need it the most. 
In January 2020, FPATT launched an 8-module Zoom series for the migrant community that focused on the topics that were most critical to helping them integrate into their new home and culture. The structure was based on the IPPF's One Curriculum, but designed to suit the needs of Trinidad and Tobago's unique context. Dr. Camejo spoke from her expertise in Sexual and Reproductive Health, highlighting the use of contraceptives for planned pregnancies and the importance of regular pap smears to reduce the risk of cervical cancer. 
"It's information that they desperately need. They are in a new country, everything is different, including the systems, the culture and the food. They appreciate faces and voices that are familiar, sharing information that could save their lives," she said. "This is what I love to do as a doctor. Since I was a little girl in Havana, I would watch my father speaking to his clients and he would be so careful with them and they would be so grateful that he came to see them. I feel the same way when I get to share and communicate with my clients. When people need help, you just have to help."
Dr. Mabel Camejo has been with FPATT for over 3 years and looks forward to serving the local Venezuelans and Cubans as long as she can. A migrant herself, she understands the intrinsic and changing needs of this community and continues to help FPATT tailor its services to ensure that equal opportunities in sexual and reproductive healthcare are afforded to all.  
country
Trinidad and Tobago
Subject
Maternal Healthcare, Humanitarian
Related Member Association
Family Planning Association of Trinidad and Tobago