Keriann Hurley has worked at the Barbados Family Planning Association (BFPA) for 15 years. She is a social worker and the Manager of Youth Programming, but art is another passion of hers.  A link between art and social work may not seem evident but Keriann explains that combining her passions "helps to fuel the type of interventions I do with the clients."
Keriann is proud that "here at BFPA, our niche and the thing that we do amazingly well, above anyone else I dare say, is how we deal with Sexual and Reproductive Health issues, but that's not all we do". "Sexuality and sexual health is only one aspect of your existence", she says. She is clear that BFPA's services must consider gender, sexual identity, sexual orientation, mental health, family circumstances and relationships in its service delivery if it is to truly serve the community.
There is a real need to provide unhindered access to young people who require services
In Barbados, the age of consent is 16 but "there is still the issue of the age of access versus the age of consent." Keriann explained that there's no legal framework that prevents young people between 16 and 18 from accessing SRH services; there is the cultural "assumption that they must bring parent/guardian to be seen by a medical professional."
"A young person isn't just going to show up at a doctor's office because they think it's the cool thing to do. There must be a dire reason", Keriann says, and she adds that many young people do not access services because they fear judgement and punishment.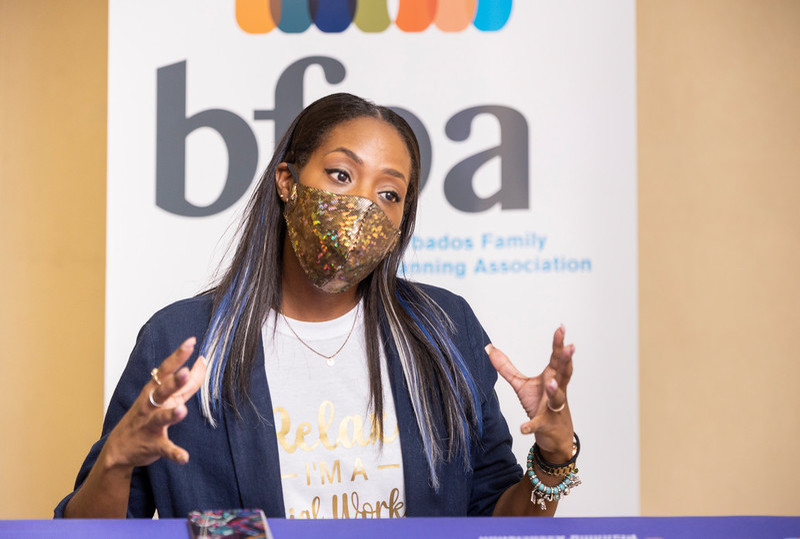 "At BFPA, we don't turn away anyone"
A key task of the BFPA is to facilitate young people's access to SRH services. BFPA established legally compliant protocols which govern their engagement with young people. Social Workers like Keriann comprehensively assess the personal circumstances of each young person to ensure that they are provided with the appropriate care. "Not every young person has a parent or guardian who will come with them, but should they be turned away if they have a dire need? No, it's unethical to do that. At BFPA, we don't turn away anyone", she says.
Sometimes a young person does have an available parent or guardian but fears their reaction to their desire to access SRH services. In these situations, she acts as a mediator to facilitate conversation between the young person and their caretaker.
With the years passing, it became clear to Keriann that the challenge is "dealing with age-old issues in new ways. There is nothing new under the sun. However, issues do come back around in new ways". The significance of certain issues changes with the times. "Just look at social media!" she says, "it also means that information, and misinformation, is easily accessible."
Keriann has seen a shift in societal attitudes towards SRH over the last 5 years. A plus side of the internet, she says, is that the accessibility of information means that society cannot "bury its head in the sand and pretend that young people aren't sexually exploring."
"The Young Mothers Programme is my baby"
In 2011, Keriann started this 10-year programme. The majority of Barbadian households are female-headed and she recognises that empowering young mothers will have a powerful positive impact on society. "These girls come with heavy issues," Keriann says. Beneficiaries are taught not just parenting skills but life skills. They have access to intensive psychosocial counselling for themselves, partners and family members and vocational training.
The Young Mothers Programme has transitioned to online delivery which poses such as lack of devices, electricity or a conducive household environment, and unreliability or absence of internet access. "Suddenly there was a new normal before we could even figure out what that meant", Keriann says. Online delivery is more tiring, and she admits the difficulty in balancing delivery of a quality programme without an unsustainable psychological cost to herself but is adamant that "it is better to have a meaningful impact on 10 people than surface level engagement with 100".
Keriann believes that "the wealth and health of a society is based on how we take care of the most vulnerable. Working in an organisation whose focus is primarily the most vulnerable is really rewarding". Keriann shares that social work is one of least financially viable careers in Barbados. "Many months we just try to get by, but the work is really rewarding!" she laughed, "We are here grinding on and doing what we have to do to make sure that we provide quality services to the most vulnerable in our community and not leaving anyone behind"
region
Americas & the Caribbean
Subject
Maternal Healthcare, Young People, Advocacy, Gynaecological
Related Member Association
Barbados Family Planning Association (BFPA)