It wasn't the group meetings, the testing services or the health facilities that attracted Manny Norman, it was the offer of a free subway card and a bite to eat. A friend who was also a substance use told him about the workshops in a basement at a nearby community centre.
Manny focused on the subway card which would be worth a few dollars if he sold it on.
"I just wanted something to eat," he says. "I hadn't eaten in probably 20 hours. And the idea of getting more drugs without stealing sounded good to me."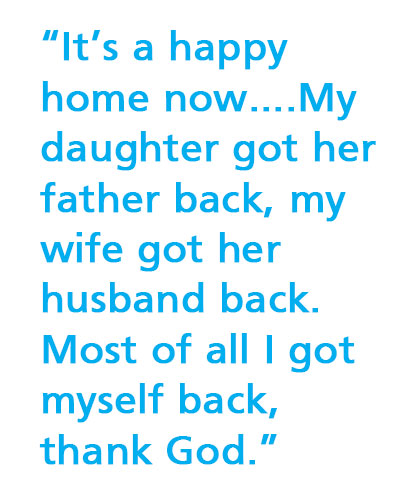 Thirteen years later and he is still attending the Safety Counts meetings run by Planned Parenthood's Project Street Beat, and credits them with helping him rebuild a life shattered by drug abuse.
At the time, he explains he was neglecting his young family, stealing from them to buy crack cocaine and alcohol. His wife would call the police or lock him out of the home on an almost daily basis.
"I was on crack and alcohol, the drugs that led me to dereliction, that led me to stealing, being unmanageable, not responsible, without a care in the world," he says. "(I) didn't want to work. I just wanted to feed my drug addiction."
Starting a new life
But when he walked into the Safety Counts meetings, he says now, he realised he was among people who understood his life.
"They met me where I was at," he says. "They could tell I was under the influence. They could tell I was hurting, that I wasn't doing the right thing and they made me feel no less than and no different. They gave me hope to come back the next week."
At first, he just went with the flow, focusing on the food and the subway card, not taking much notice of the services on offer. But eventually, he realised there were other people in the room he had come out the other side and rebuilt their lives.
"We talked about harm reduction," he says. "I could identify with the stories other people were telling. Lying, cheating, stealing, borrowing money knowing you wouldn't pay it back."
Detox and rehab followed. He used the facilities of the projects mobile medical unit to get himself tested for Hepatitis C and HIV and has managed to stay clean, even training as an HIV outreach worker, and has rebuilt his family life.
"It's a happy home now," he says. "My daughter got her father back, my wife got her husband back. Most of all I got myself back, thank God."
Without Project Street Beat he says his life would have continued its downward spiral. He would most likely be in prison today. Instead, he works as a supervisor for a cleaning company. And when he bumps into one of his friends from the old days he knows what to do.
"When I walk down the street and see someone I know – someone I took drugs with or drank with – I let them know exactly where the mobile might be at," he said. "I have cards in my pocket I give out to people and let them know this is the new way."
Watch Project Street Beat in action
Related Member Association