Accessibility to information and contraceptives has always been a priority for Famia Planea Aruba (FPA), whether through the office, delivery service, or in schools. 
For over fifteen years FPA has worked in partnership with one of the largest secondary schools on the island. The FPA team visits the school on a monthly basis to provide guidance, counseling, and contraceptive care to students and to help ensure they stay in school to complete their education. 
"One of my first experiences providing comprehensive sex education, with FPA was at the EPB School during my education as a social worker, many years later I still very much enjoy this", says Richenella, FPA's Finance and IEC support staff.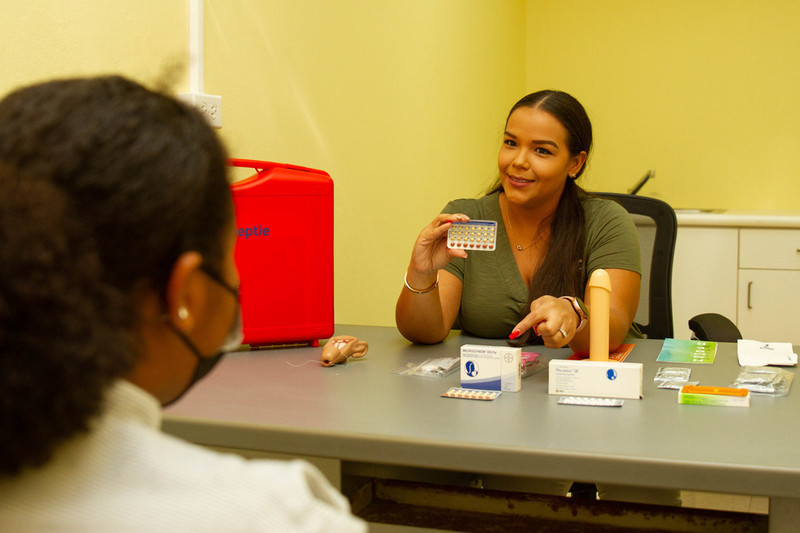 FPA's client is at the heart of its healthcare provision. FPA staff work with students to build trust and ensure they feel safe to talk openly. This helps to provide a sense of consistency for the student, as well as efficiency for the team being familiar with specific students and cases. They are better able to notice if something changes, and if a student needs a referral to a medical doctor or other organization for additional treatment.
"The consultations are always fun; you get a change of scenery by stepping out of the office. Over the years you see so many faces and still, somehow you manage to remember most of them. After just a few visits you can start to build a profile of most students, you can start to tell who the class clown is, the Mister Popular, the shy one, the loud one, and the one who just wants to take his time to avoid going back to class", Richenella laughs.
region
Americas & the Caribbean
Subject
Contraception, Gynaecological, HIV and STIs
Related Member Association
Foundation for the Promotion of Responsible Parenthood - Aruba