"I started as a Pro-Family Health Promoter (PSP, in Spanish) 30 years ago. I received a visit from Pro-Familia staff on several occasions, I was very interested in what I could do to help in my community as a volunteer. I was trained in sexual and reproductive health issues, and in the technique of injecting (contraceptives)", says Juana Margoth.
Through the community-based Pro-Family Health Promoter program, the Salvadoran Demographic Association (ADS / Pro-Familia) has been providing sexual and reproductive healthcare to local communities since 1974. Today, the program currently has around 900 health promoters across El Salvador. Reaching under-served communities with contraceptive care and information lies at the heart of the program's mission.
In the absence of healthcare from the Ministry of Health in Hacienda El Edén, Sonsonate, Juana provides care to four villages in the surrounding area. "I make visits in the communities to the clients I already have, to see if they are okay with the (contraceptive) method and to receive new clients, sometimes even the same clients tell me that there is someone who needs a visit. I like that they look to me to help them. I give confidence to the clients, to their partners too, I have clients since 2, 5 or 6 years ago. (…) There is a lot of need, so I am here, until God wants it", she says.
Juana receives a quarterly supply of contraceptives that she distributes at low prices to the women in her community. "I like that women know that I am here to help them, also to give advice and understand each people's problem; (to help them) to plan their family, and I like the fact that they want to do it with me," she says.
Providing counseling to clients on contraceptive methods so that they understand the different types and can make an informed choice is a crucial part of her role. "In other places - she says - they only give the contraceptive methods to women and do not explain (it's use)".
In addition to the community-based program, Pro-Familia supports the network of promoters to help respond to emergencies. When natural disasters occur, Pro-Familia conducts a survey of needs and responds with support for reconstruction and food supplies.
"I have a lot to thank Pro-Familia for, I have learned and continue to learn with them, they are always there when I need to know something when I run out of contraceptives and without medications (for the program); I am also grateful because I have my prefabricated house thanks to Pro-Familia who helped me when the earthquake of 2001 happened", she says.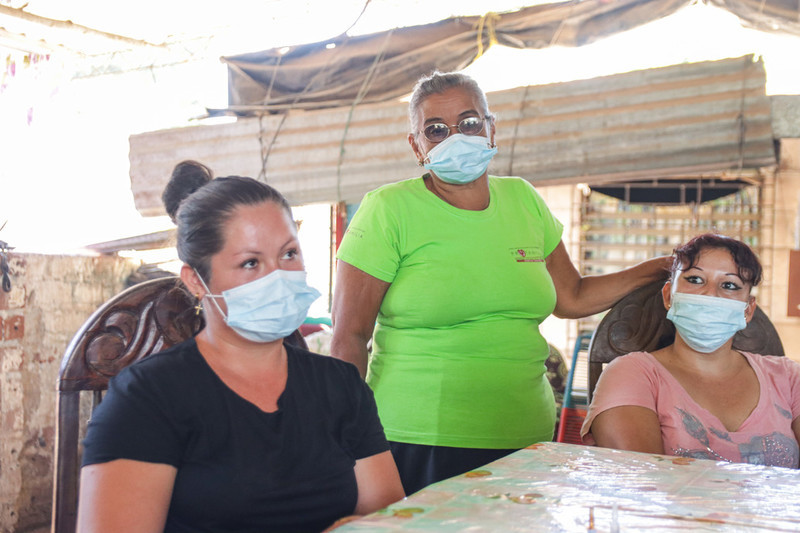 I feel confident with her
Yaneth Aguilar knew Juana Margoth and felt confident in choosing the injectable as her preferred contraceptive method. "With my husband, we agreed to put myself in control with her, she is kind, and she pays attention. If she were not here, I would surely have two more children. I feel confident with her. I don't like going to the health unit, because I have to spend the whole day, and sometimes they don't treat me well."
Veronica Moran also received contraceptive care and information from Juana. "Margoth has changed our life, mine and my family's, I have been planning with her for 8 years, she is kind and always has the method I use. When I have doubts, I ask her with confidence, without shame, and I can go to her house at any time, she is always there. I don't like going to the health unit, because I spend a lot (of money), and sometimes they don't have contraceptives; nowadays, with the pandemic, we have her close and she never stopped treating me, it is very helpful in our community."
Brenda Martinez has been a client of Juana's for two years. "She is the person that we know has (contraceptive) methods in the community, where Pap tests to prevent cancer are done, where we buy medicines, where you can always ask. When I was born, she was already a promoter; I couldn't be in another place planning, she is a very good person, kind, and she is always helping us in whatever way."
Subject
Gynaecological, Anguilla, Antigua, Contraception, Aruba
Related Member Association