ACRO'S Collaborative Partner in Ecuador, Cemoplaf, successfully implements a humanitarian initiative.
In January 2022, Cemoplaf started a project to ensure sexual and reproductive health in emergency contexts*.  
The project has two targets, the first one being the response for those affected by the flood in Quito, and the second, to migrants – primary from Venezuela.  
Target 1 - Quito alluvium 
La Gasca and La Comuna neighborhoods, two populous sectors of the capital of Ecuador, located on the foothills of the Rucu Pichincha Volcano, were surprised by alluvium. This natural disaster left many residents without housing, disabled mobilization in the sectors, and complicated access to health services.  
In the face of this emergency, Cemoplaf provided first-hand response with free comprehensive health, sexual and reproductive health services for the affected people in these sectors. Thanks to the support and coordination of the institution with neighborhood and community leaders, an outpatient center was installed in a strategic location where approximately 378 children and more than 700 people have been attended so far.  
While the project is underway, approximately 30 gynecological, family planning, sexual and reproductive health counseling, psychology, general medicine, and pediatrics services are provided daily.  
"We make home visits to people who have not been able to get to the community house where we are providing care. (...) We provide free services and medicines and if necessary, according to the needs of the people, we mobilize them to the centers and clinics that we have in nearby areas and return them to their homes. Lourdes Rivera - Director Cemoplaf Adolescente.  
This project will end in May 2022. The articulation, teamwork and inter-institutional coordination means that the medical care provided to those affected is followed up and referred to other centers, according to specific needs, to always provide a response, even after the emergency.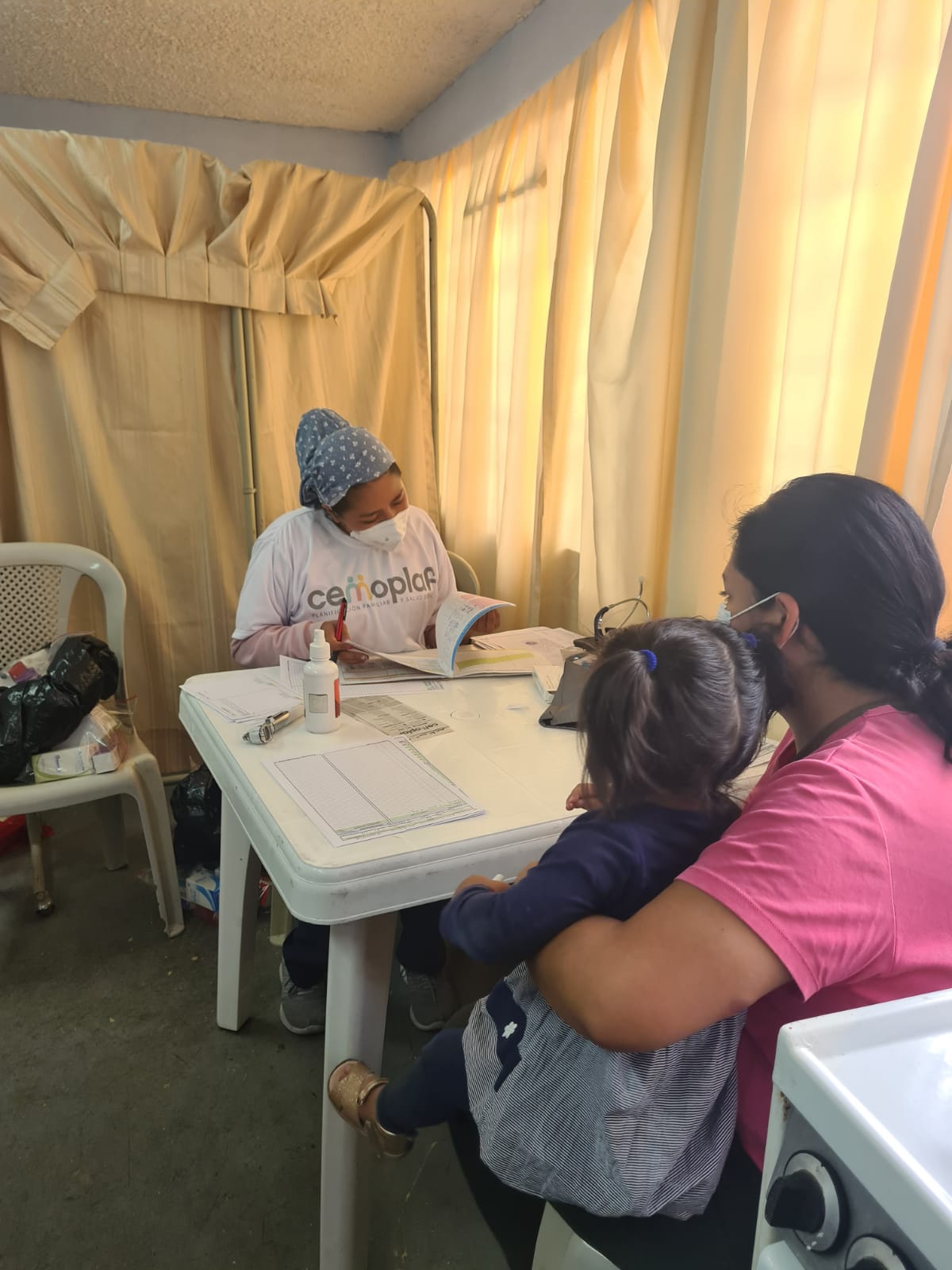 Target 2 - Sexual and reproductive health care for migrants  
Due to the context of migration that has increased in recent years in the northern border of Ecuador, Cemoplaf, through IPPF's humanitarian project, provides sexual and reproductive health care services to migrants who are passing through the cities of Tulcán, Ibarra and Otavalo. Together with partner organizations such as Asociación ASIRIS, the Otavalo mayor's office and ADRA, among others, they have facilitated the organization, implementation, and access to these essential health services free of charge and in a timely manner.  
Located in strategic locations in each city, Cemoplaf's medical personnel have attended 856 patients, who have been referred to other complementary services for a total of 2,895 services. The services provided are gynecology, prenatal control, family planning, contraceptive methods, HIV and STI tests, pregnancy tests, obstetric ultrasounds, clinical laboratory, and comprehensive services.  
"Telemedicine service by WhatsApp have been a success during this project. Many people are walking and do not stay more than a day in a city. For example, if a woman had a pap smear or an HIV or STI test in Tulcán we can give her the results of her tests and refer her to one of Cemoplaf's health centers for control and follow up, and so on with all sexual and reproductive health services" Solange Gálvez - Director of Communication.  
This project guarantees the population in human mobility access to sexual and reproductive health services completely free of charge, including medicines, care, and complementary treatments, providing follow-up, and adapting to the context of the migration situation.  
"Cemoplaf has 47 years as an institution dedicated to offering health services and products, with emphasis on sexual and reproductive health that contributes to improving the quality of life of the population in vulnerable situations. The institution's staff has a social and ethical commitment to the defense of human rights that accompanies each project and care provided" Teresa Álvarez de Vargas, Executive Director of Cemoplaf.  
---

* This project is part of Stream 3, one of three "streams" of IPPF funding, which accompanies each project
and the care it provides. Dedicated exclusively to funding humanitarian response projects in response to
crises and emergencies. The global humanitarian team manages, evaluates funding requests, and monitors
implementation. requests for funding and monitors implementation. Projects are response projects for up to 6
months maximum and provide initial support, with the idea that the Member Association or Collaborating Partner
will then look for another options.